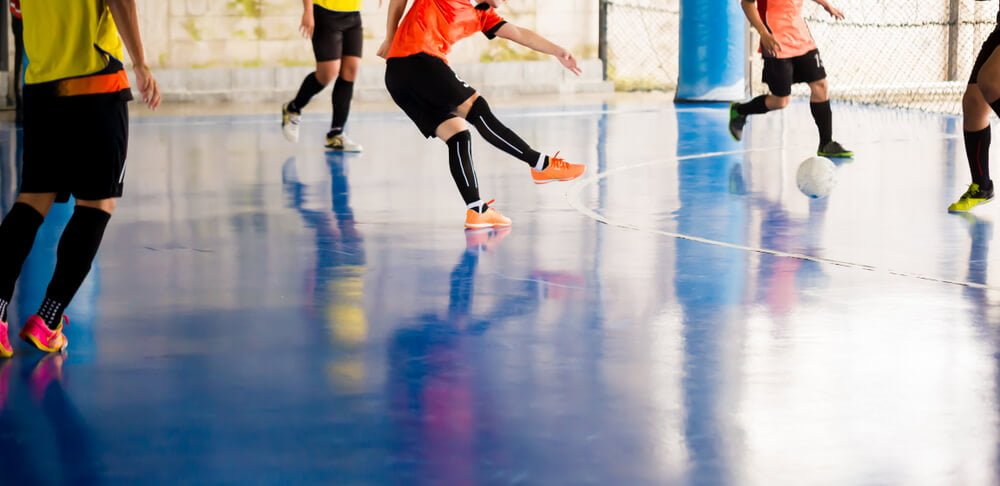 Futsal has been recognised as an important sport that should feature in the development of all football teams. Futsal places a large emphasis on technical skill and ability in situations of high pressure. The smaller confines of the pitch that make it harder to find space, the line markings that prevents easy escape from tight situations, and the smaller heavier ball which supports closer ball control and manipulation support the technical development of young players in a multitude of ways. The sport is so important that even the FA have their own futsal strategy.
The FA are not suggesting, however, that futsal should supersede any of the existing football training and match programmes that clubs, schools and leagues may currently organise for young people, but where possible they encourage coaches and teachers to consider ways for introducing futsal as part of a mixed and varied football provision for your young players.
This could look very different from area to area, but below are some ideas that you may wish to consider:
Winter futsal league provision
During the winter months you'll be more than familiar with outdoor matches facing regular postponement due to waterlogged or frozen pitches, resulting in your players frequently not playing for a number of successive weeks. And even when they do play during these months, the cold and wet conditions make it less enjoyable for the players, coaches and parents. As futsal is an indoor game, consider temporarily stopping outdoor football leagues during the worst of the winter months and forming a winter futsal league for clubs or schools to participate in.
According to the FA, this practise has been met with enthusiasm by clubs, coaches, parents and most importantly the players themselves. They get to continue playing through the winter, in a warm friendly environment, in a different format where they get to touch the ball more frequently. For the coaches and teachers, they no longer need to worry about the prospect of cancelling matches and they are providing a different format of the game to support the technical development of their teams. And for the parents they welcome not standing in the freezing cold!
Pre-season / end of season festivals
Clubs and school teams may wish to consider using futsal during the pre-season or at the end of the season to offer a varied competition programme to maintain enthusiasm, enjoyment and to simply offer players a different challenge and experience. Arranging friendly matches, mini-tournaments or festivals where futsal is played is a relatively simple way of gradually introducing futsal to your team, as well as helping all involved (other clubs, parents and coaches) to get to grips with the game and become familiar with the benefits it offers.
Training sessions
Many football clubs and schools hold their midweek training sessions in an indoor sports hall (particularly during the winter) and often resort to playing 5-a-side football. This is an ideal opportunity for coaches to introduce futsal as a regular weekly training tool to aid their player's development. Using futsal balls, marking out the court (either permanently with tape or with flat marker discs) and using futsal goals (improvising by putting tape on the walls to mark out the goals could be enough to get started) will enable the coach and the players to initiate a game that at least resembles futsal.
Go on a futsal development tour or add it to your football tour.
Sparking an initial enthusiasm for futsal might be challenging – although popular in other parts of the world, the sport was less well known in the UK. There is definitely a change in momentum now with futsal hailed as the fastest growing sport within schools and universities. Going on a dedicated futsal tour or even incorporating futsal sessions in your existing football tour would give players the chance to be taught by professional coaches and provides a great opportunity to develop easily transferable skills into the 11-a-side game…and if Messi, Ronaldo and even Pele have credited futsal with honing their ball skills then we're sure your squad will be impressed with this fast-paced and exciting format.
Comments from Young People about Futsal (boys aged 9 – 11yrs old):
"Great because it tests your touch."

"Fun because it is different."

"It helps decision making because the ball moves really quick."

"You have to deal with the ball in tight areas, which helps improve your touch and movement."

"It's fun because you get loads of touches of the ball."

"It's helped my confidence on the ball."

"You need fast feet and you need to be able to use different parts of the foot in tight spaces."